Calico House Bed & Breakfast
Tel: 01890 885870
Mob: 07985 249207 Luxury Bed and Breakfast in the Borders
The Scottish Borders Around Calico House, Coldstream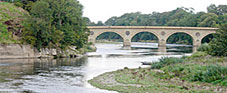 Coldstream is known as the "first true border toon" and is situated on a large bend on the River Tweed by the old Edinburgh to Newcastle upon Tyne road. The beautiful bridge, completed in 1766, was built to replace the natural ford, the lowest ford on the Tweed. This ford had played an important part in history, being used by armies from both sides of the border for centuries, none more so than the gathering by General Monck of his army at Coldstream in the winter of 1659. On the 1st January 1660 Monck ordered his men to ford the freezing River Tweed and set off to London, in a successful bid to bring Parliament back to power and restore the Stuart throne. This regiment became known as the famous "Coldstream Guards", the oldest British regiment with continual existence - as conveyed by their motto, 'Nulli Secundus' meaning 'Second to None'. The town of Coldstream now uses this motto as their own.

In addition to its history Coldstream is famous for fishing, especially salmon fishing, golf and walking. The Hirsel Estate, the home of the Douglas Hume's is in Coldstream, it offers wonderful walking, craft shops, tea room and is adjoined by the Hirsel Golf Course, which welcomes visitors and known as "Augusta of the Borders".


Places of interest near Coldstream
Coldstream is an ideal base from which to visit the Borders and even further afield.
Berwick upon Tweed - This historic town lies 14 miles to the east of Coldstream.

Kelso - One of the lovely towns on the River Tweed and just 8 mile from Coldstream, the market square in the centre of Kelso is one of the finest to be seen. Just outside of Kelso you will find Floors Castle home to the Roxburgh's and well worth a visit. For those interested in salmon fishing, Kelso is where you will find the World famous Junction Pool on the River Tweed